Gemini-2 and Gemini-1 Telescope Mount Controllers
Website and Tutorials by Thomas Hilton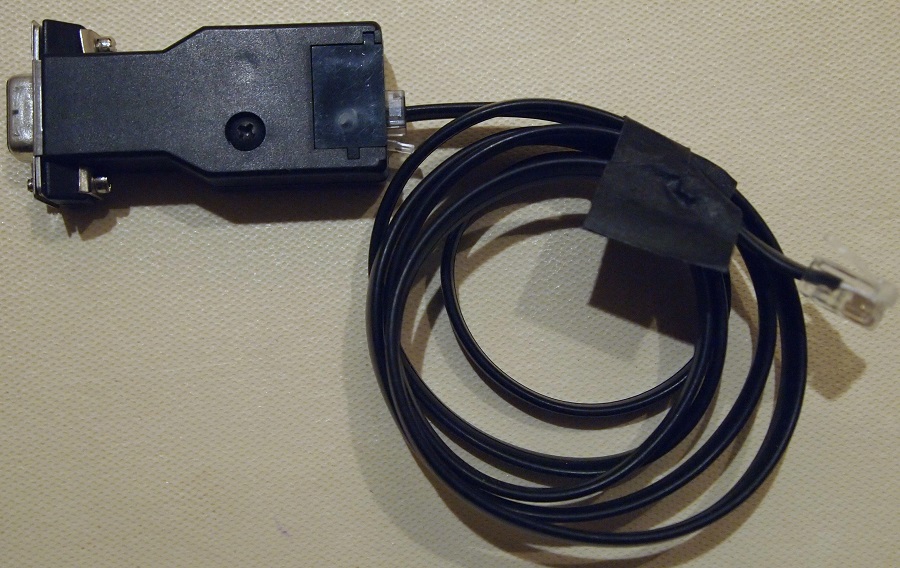 Click on image for larger view
The Losmandy GCC GEM 2 serial cable.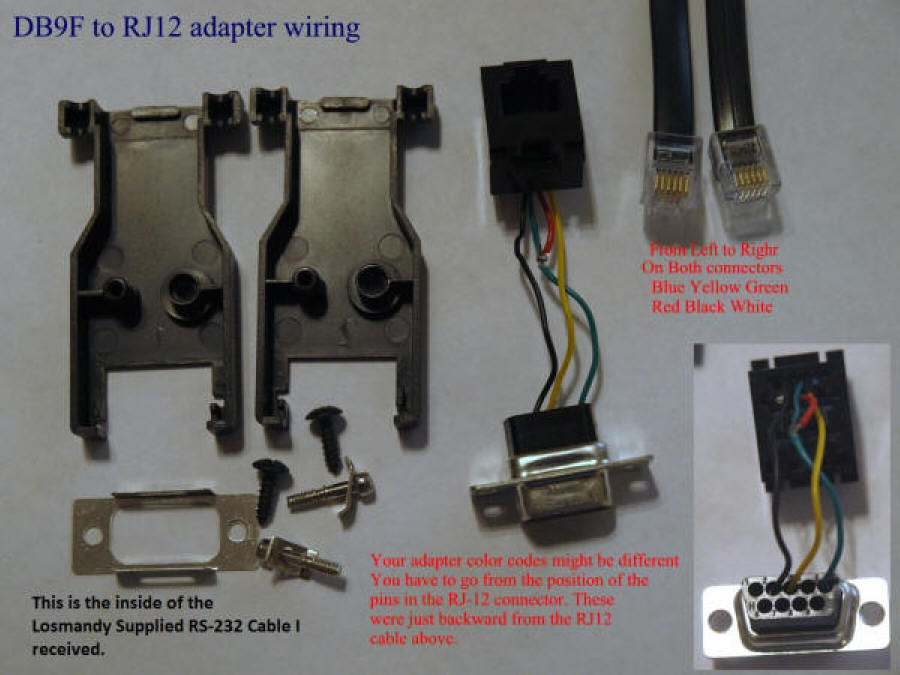 Click on image for larger view
The pictures above are from the Losmandy supplied Serial Port cable GCC GEM 2 with the RS232 end taken apart to show how it was made. You can purchase it from Losmandy Part number GCC Gem 2 on the accessory page or make your own. Losmandy may change the manufacture and color of the DB9F to RJ12 adapter they use. That is up to them.

Notice that the Green wire in the above drawing has the red wire tapped into it. These are the two center pins on the RJ12 connector and they are wired to pin 5 of the RS-232 plug. This is the ground signal from the Gemini-2. Note: the above color codes do not match the ones I used on the Serial Cable Wiring Page to show how to wire from the RS232 jack to the RJ12 Telephone connector. Every manufacture of DB9M to RS232 adapters use different color codes, so there is really no way for me to match colors.
Here is a few of other manufactures of DB9F to RJ12 adapters (unwired):


Follow the color coded for Gemini 2 RS232cable wiring
The RS-232 connector is a Female DB-9 connector.
The telephone connector is a RJ-12 connector. The color code is from the DB9F connector to the RJ12 end that goes into the Gemini-2.

Of course you have to wire them correctly, and then add the telephone cable (6 wire) with each end put on correctly to match how the DB9F to RJ12 was wired. Please note that all of these do not follow the same color code. I know for a fact that #1 and #2 are backwards to each other, or at least was when I was making and selling Gemini-1 cables. I suggest that if you are not good at following the logic behind wiring up the DB9F to RJ12 adapter and making a RJ12 to RJ12 cable, then please order one from Losmandy.
This site is not for profit and sells nothing and asks for no money for any help it provides. This site is here to help fellow Gemini-2 and Gemini-1 owners. This Web Site is not associated with Losmandy-Hollywood General Machining Inc. or any of their employees and never has been. There is no guarantee that all the information is correct, but strives to provide the best information possible. The use of any information is at your own risk. The webmaster is an unpaid beta tester, and tries to work with other beta testers, and René the writer of the firmware. If you would like to help keep this web site going send your gift to paypal.me/geminitwo Your gift will be used to defray the cost of keeping this web site up, unless you specify otherwise.
Your Privacy Policy
No Information is collected by this site. Cookies are set in your browser, but only for visited
links to change color.
Your use of any information on this site is at your own risk.
and http://www.gemini-2.com
Gemini-2 and Gemini is a registered trade names of Hollywood General Machining Inc.