Gemini-2 and Gemini-1 Telescope Mount Controllers
Website and Tutorials by Thomas Hilton
Hand controller cable ends.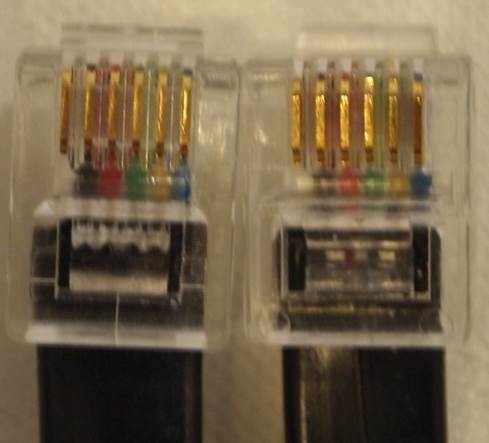 With both positioned with the pins up. the normal color code
will be white, black, red, green, yellow, blue from left to right in
connectors. But what matters is that they are the same in both connectors.
According to the datasheet from Assmann there part number for a 14 foot cable should be
AT-C-26-6/6/B-14/R-R and the data sheet is available at http://assmann.us/specs/AT-C-26-6_6_B-14_R-R.pdf

Digikey carries the item under there part number A2662R-14C-ND and the link is
http://www.digikey.com/product-search/en?vendor=0&keywords=A2662R-14C-ND for a cost of about $8.00 plus shipping. Now I have ordered the above part and tested it, and it seems to work ok. I was a little concerned in that the diameter is smaller than the one supplied by Losmandy. Measuring operating voltages show that it drops about 0.1 more volts than the Losmandy coiled cord cable, but the hand controller is still receiving +4.75 volts which is dropped down to +3.3 volts with an internal regular. All data seem to transfer ok also. I cannot guarantee that this cable will not cause errors, but first impressions ( 19 July 2013) is that it will work fine.
This site is not for profit and sells nothing and asks for no money for any help it provides. This site is here to help fellow Gemini-2 and Gemini-1 owners. This Web Site is not associated with Losmandy-Hollywood General Machining Inc. or any of their employees and never has been. There is no guarantee that all the information is correct, but strives to provide the best information possible. The use of any information is at your own risk. The webmaster is an unpaid beta tester, and tries to work with other beta testers, and René the writer of the firmware. If you would like to help keep this web site going send your gift to paypal.me/geminitwo Your gift will be used to defray the cost of keeping this web site up, unless you specify otherwise.
Your Privacy Policy
No Information is collected by this site. Cookies are set in your browser, but only for visited
links to change color.
Your use of any information on this site is at your own risk.
and http://www.gemini-2.com
Gemini-2 and Gemini is a registered trade names of Hollywood General Machining Inc.