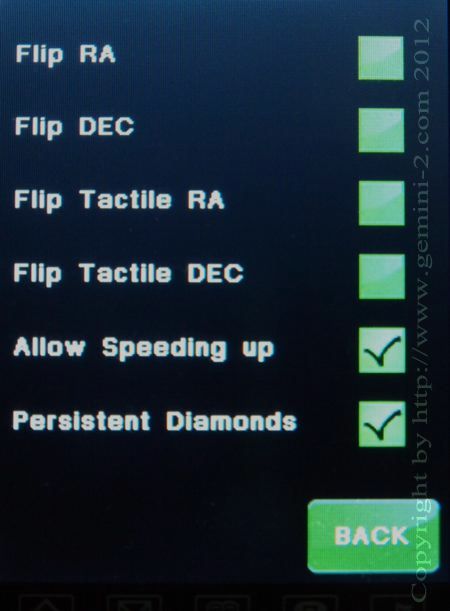 This menu lets you swap the buttons on the front and on the back of the hand controller. The buttons on the back are called tactile buttons. We call the 4 Diamond shaped directional buttons on the front Directional Diamond buttons, for lack of a better name.

The Allow Speeding up enables/disables the "opposite button trick" for speeding up movements using the tactile buttons. (buttons on the back of the Hand Controller.) This opposite button trick is press the opposite button to cause the mount to speed up to the next speed selection range.

How the Allow Speeding up works:
If you uncheck this box, the buttons work in a very safe manner. Not only that a movement will never speed up to the next stage, pushing both "opposite" button while the other button is still pressed - ignores the first button and changes the direction for guiding and centering speeds. Movement stops if the button pressed as the last one is released - Ramps down a Move or Slew movement.

With the "Allow Speeding Up" box checked the HC buttons work like the G1 HC buttons worked: Within the mode selected (Photo mode: Guiding can be accelerated to slewing, Visual Mode: Centering to Slewing, ...) with the "opposite key" trick.. The Speed setting on the main screen defines the starting speed.