Gemini-2 and Gemini-1 Telescope Mount Controllers
Website and Tutorials by Thomas Hilton
Adding Gemini-2 to network places
We are going to add an FTP link into the Gemini-2 so that the Windows Explorer can see the contents of the micro-SDcard. This will work in both XP and Windows 7, but each is a little different.
1. Open "Control Panel" via your start menu and double click on "Internet Options" if using XP, or Network and Internet if using Win 7. Now if using Win 7 click on internet options. For Win 7 a menu
similar to this should open.
2. Click on the Advanced tab in the left menu, and the menu on the right should open. We need to make sure that certain options are selected.
Make sure that "Enable FTP Folder View (outside of Internet Explorer)" is selected.
Scroll Down to "Use Passive FTP (for firewall and DSL modem Compatibility)" and also select it.
3. Now if using XP, go to the start menu and select "My Network Places." If using Windows 7 then go to the start menu and select "Computer" Since I don't have XP, most of the demo will be for Win 7. If using Win 8.1, go to the start menu and select Windows Explorer. Right click on "This PC" and then on "Add a Network Location" in the pop-up box.
4. If using XP, Click on add Network Place. A "Welcome to Add network Place Wizard" should pop up. If using Windows 7 in the Window that came up when you selected "Computer" in step 3 above,
right mouse click on an empty spot. and select "add a network location" the wizard below should pop up.
5. Click on the Next button.
6. Highlight the "Specify the address of a wbesite, network location, or FTP site. then click on the Next button of this window.
7. In the Internet or Network Address block put "FTP//:admin@YOUR GEMINI-2 IP ADDRESS" without the apostrophes. Then hit Next
8. A box will appear the will let you name the location so you can easily recognize it. I named mine FTP into Gemini. After naming it, hit Next. If a box comes up asking for a user name and password, put in admin for the user name and leave the password blank, but check the box to remember the password. This box comes up in Windows 8.1
9. This box lets you know that you have finished creating the shortcut. Hit Finish. If you have the checkbox Open the network connection when you hit finish, the it should open up a window into the micro-SDcard.
10. Below is an example of what my computer network location looks like after doing this.
11. What is nice about this method, is that you can copy and past the shortcut to your desktop. That way you will never have to type FTP://admin@gemini again. See my desktop example, so that I can
easily copy and save the log files, the Pec files, and Config files.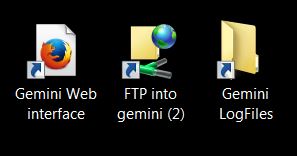 12. The left and right shortcuts was created by right clicking on the desktop and putting it the proper location and title. The center one is a copy of the shortcut from My Computer Network places. The other two are optional icon that I find handy.

To create the left Icon, right mouse click on a blank space in the desktop, and in the address box put the IP address of the Gemini-2 plus /index.htm (http://192.168.0.111/index.htm

then when the name box comes up give it a name you like. This icon is optional.
To create the right Icon, you first have to have a directory created on your hard drive for it to point to. I used C:\Gemini-2\logfiles. Then you can right mouse click on your desktop and put that in as the address box, and then name it what you would like. This icon is optional.
13. The other nice thing about this is that it makes updating the firmware easy using Windows File Explorer, See instructions here. All you have to do is copy the unzipped downloaded firmware into this shortcut. It will replace any files already on the
micro-SDcard. Then go into the Firmware/SRAM tab of the web interface and select Flash Firmware.
After that unplug and replug in the hand controller, and let it update.

This site is not for profit and sells nothing and asks for no money for any help it provides. This site is here to help fellow Gemini-2 and Gemini-1 owners. This Web Site is not associated with Losmandy-Hollywood General Machining Inc. or any of their employees and never has been. There is no guarantee that all the information is correct, but strives to provide the best information possible. The use of any information is at your own risk. The webmaster is an unpaid beta tester, and tries to work with other beta testers, and René the writer of the firmware. If you would like to help keep this web site going send your gift to paypal.me/geminitwo Your gift will be used to defray the cost of keeping this web site up, unless you specify otherwise.
Your Privacy Policy
No Information is collected by this site. Cookies are set in your browser, but only for visited
links to change color.
Your use of any information on this site is at your own risk.
and http://www.gemini-2.com
Gemini-2 and Gemini is a registered trade names of Hollywood General Machining Inc.