Gemini-2 and Gemini-1 Telescope Mount Controllers
Website and Tutorials by Thomas Hilton
Changing the MAC and IP Default Addresses.
If you have two or more Gemini-2 units on your network, you are going to have to change the default IP and default MAC addressess. This is easy done.
Make sure only one Gemini-2 is turned on. This will be the one you want to change.
Go into the Web interface using your computer. Select "Network" on the web home page.
The below screen will come up.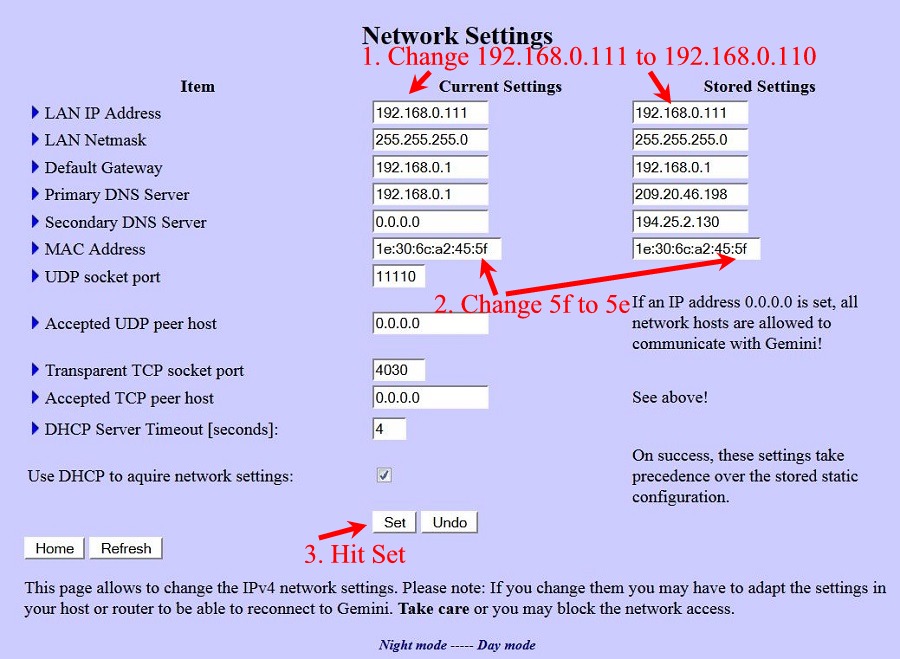 Please make the following changes.
Change both the Current Setting and stored setting of the LAN IP address from 192.168.0.111 to 192.168.0.110
Change both the Current Setting and stored setting of the MAC address from 1e:30:6c:a2:45:5f to 1e:30:6c:a2:45:5e
The hit the set button. Now this is going to disconnect you from your network. Don't be alarmed. Just use the new IP address in your browser to reconnect.
PLEASE NOTE: If you have MAC address filtering enabled on your router, then you are going to have to add this new MAC address to your router before your router will see this Gemini-2 on the network,
If your Gemini-2 is connected Via Ethernet, turned ON, and Responds to http://gemini/network.cgi then this link will open this page in the Gemini-2 web interface, after prompting for a log-in.
Page last updated on May 8, 2016
This site is not for profit and sells nothing and asks for no money for any help it provides. This site is here to help fellow Gemini-2 and Gemini-1 owners. This Web Site is not associated with Losmandy-Hollywood General Machining Inc. or any of their employees and never has been. There is no guarantee that all the information is correct, but strives to provide the best information possible. The use of any information is at your own risk. The webmaster is an unpaid beta tester, and tries to work with other beta testers, and René the writer of the firmware. If you would like to help keep this web site going send your gift to paypal.me/geminitwo Your gift will be used to defray the cost of keeping this web site up, unless you specify otherwise.
Your Privacy Policy
No Information is collected by this site. Cookies are set in your browser, but only for visited
links to change color.
Your use of any information on this site is at your own risk.
and http://www.gemini-2.com
Gemini-2 and Gemini is a registered trade names of Hollywood General Machining Inc.